Find Genuine Ford Parts at our Blue Springs Dealership When Your Car, Truck or SUV Needs a Replacement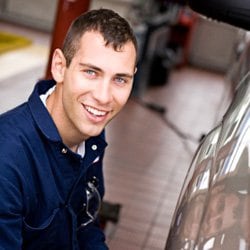 Under that gorgeous design and surrounding the capable Ford engine is a multitude of parts and components working together in perfect harmony to get you going and stopping safely. When those parts are worn down or need to be replaced, visit our Blue Springs, MO Ford dealership to find the perfect replacements. Our Ford parts center is a great spot for getting those replacements, especially with Genuine Ford Parts that perfectly fit your Explorer, Escape, Focus or F-150. If you know what you need, order your parts online.
Like with the other services offered here at our Ford dealer serving Kansas City, you'll find our parts center is responsive, easy to reach and staffed by professional experts. More importantly, our offerings of Genuine Ford Parts and Accessories mean you'll be able to buy the perfect fits for your specific model, no matter what year and what trim. This is the way to go as opposed to buying after-market parts from an independent seller. Those parts may not be the perfect fit for your Ford model, which could wind up having long-term consequences that you're better off avoiding.
Choosing the right parts for your Fusion, Edge or F-150 will make sure you can continue along your way safe and sound. Furthermore, we regularly offer parts specials, so you can visit us from Independence or Lee's Summit to get the parts you need at a price that's more than fair and competitive.
Learn more about all our parts offerings by coming over to Blue Springs Ford today!